Urban Greenways Provide Economic and Mental Health Benefits for Local Communities
Dr Chris Tate & Dr Ruoyu Wang discuss their recent published articles looking at the impact of the Connswater Community Greenway on communities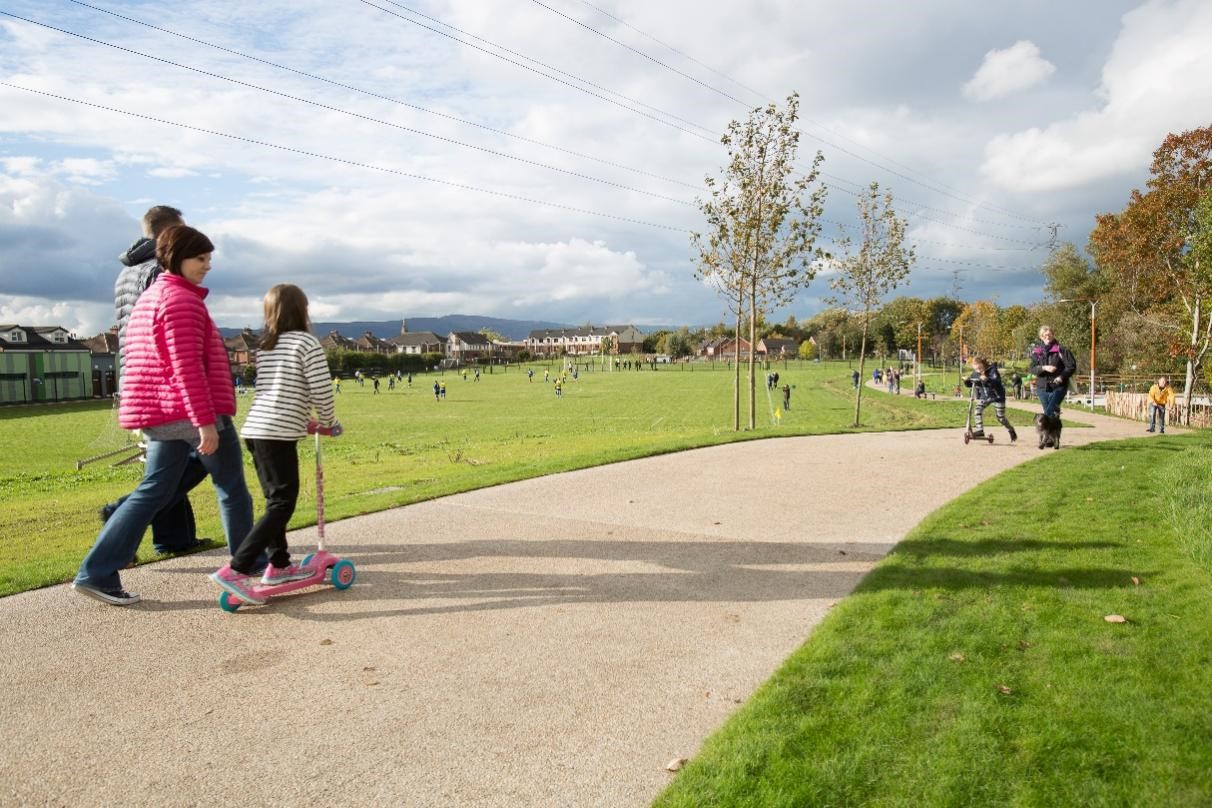 Green spaces, such as parks and greenways, are a crucial component of the urban fabric, providing many social, economic, and health-related benefits for cities. For example, natural spaces encourage people to exercise, promote social interaction, reduce the effects of air pollution, and improve the physical and mental wellbeing of local residents. Unfortunately, some cities have green spaces that are neglected or underutilised, preventing people from taking advantage of everything that these spaces have to offer. A substantial investment of time and money is required to revitalise existing green spaces and, if needed, create new ones. However, it is important that cities nurture and support interactions with nature, ensuring fair and equal access to these natural amenities. This will create a strong foundation for sustainable urbanisation that not only helps people lead healthier lives but also contributes to a stronger economy.
The Connswater Community Greenway (CCG) was developed as part of a major urban regeneration project in East Belfast, UK. It was a significant undertaking that included:
Provision of a 9 km urban greenway;
5 km of remediated water courses to prevent flooding;
16 km of new or improved foot/cycle paths;
A new civic square;
8 tourism and heritage trails;
23 new or improved bridges or crossings;
22 new signage points;
Installation of public art;
13 hectares of upgraded parks; and
2 multi-use game areas.
Combined, these measures have greatly improved both the practical and aesthetic appeal of the Greenway network in East Belfast and, importantly, provided better access for many local residents. In addition, there are many other effects that the Greenway has had, such as:
Increased value of nearby properties;
Flood protection for local houses;
Increased tourism;
Improved biodiversity and healthier natural ecosystems; and
Reduced air pollution.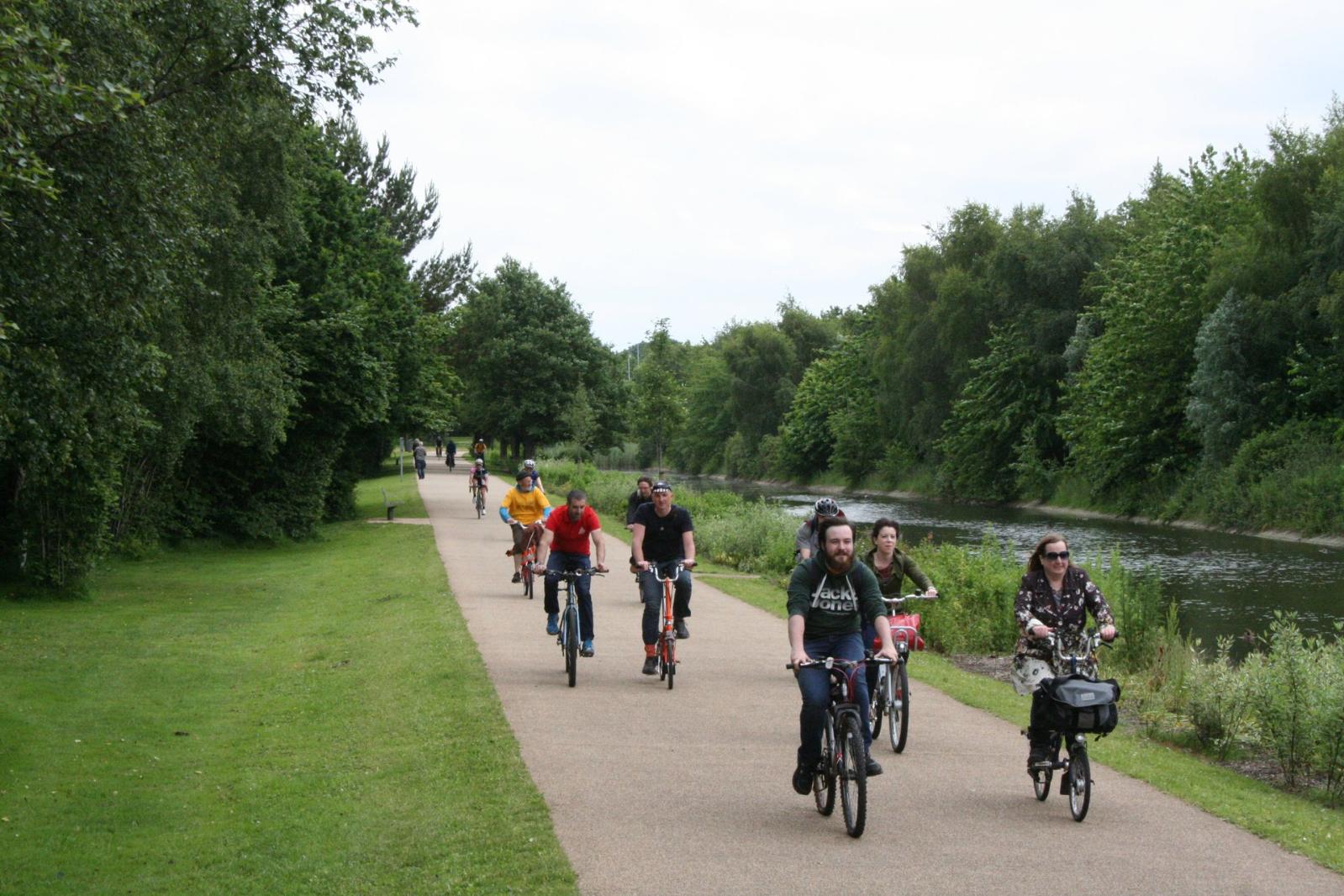 Victoria Park during "Ride on Belfast"

In order to understand how these benefits translate into economic benefits for the Northern Ireland Economy, researchers at Queen' University Belfast undertook a Social Return on Investment Analysis. This is a relatively novel tool that was used to capture the many benefits of an urban green space such as the CCG and express them in monetary terms. For example, if we know that urban green space can increase the number of people opting to cycle or walk to work instead of driving, the effects of air pollution can be reduced, improving air quality.
Our study by Tate et al. demonstrated that the CCG has generated many economic and social benefits for East Belfast. It was estimated that for every £1 invested in the Greenway, the Northern Ireland economy will experience benefits equivalent to between £1.42 and £1.66 over the next 40 years. This illustrates that urban green spaces are a worthwhile investment which contributes positively to the economy.
Establishing a strong economic argument for the development of urban green spaces such as the CCG is imperative to support future investment in this vital feature of cities.
In addition to the economic benefits of the Greenway, another study by Wang et al. found that living near the Greenway was positively associated with better wellbeing. Taking the CCG as an example, we want to understand why and how the regeneration of UGBS may have positive impacts on people's mental wellbeing. We conducted a survey before the regeneration of CCG (in 2010 and 2011) and after the regeneration of CCG (in 2016 and 2017), so that we can see how people's behaviour and mental health may change due to the regeneration of CCG.
There are several interesting findings from our study. First, we found that people living closer to CCG have better mental wellbeing than those living far away from it after the regeneration of CCG. Second, individuals living closer to CCG are more likely to have a better perception of its amenities (e.g., trees and shrubs) which can encourage physical activity on the CCG. Third, we did not find a positive influence of CCG on local residents before the regeneration of it. These findings provide evidence that the regeneration of CCG is beneficial for the local community, and more investment should be implemented to further maintain it.
Reflecting on these findings, Jacqueline O'Hagan – Manager for Eastside Greenways – said, "At the heart of it, the Connswater Community Greenway is really about people, opportunities, health, quality of life and reconnecting the communities of east Belfast. Since completion, we at EastSide Greenways have seen the impact that the Greenway has had on east Belfast and the people living here. It is so important that academic research and studies such as this take place which offer evidence to support what we see every day on the Greenway. We hope that work such as this will encourage future investment in both the development of new urban green and blue spaces but also the ongoing management and maintenance of existing spaces as well."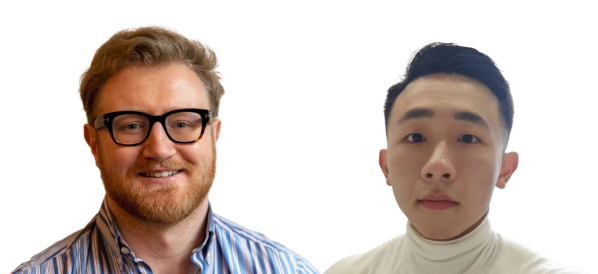 Dr Chris Tate & Dr Ruoyu Wang
Research Fellows (Queen's University Belfast)
Media
groundswell@qub.ac.uk