Greening for Health Training Workshop: Using Evidence in Practice
Practitioners working to address greening, health, and inequalities in Belfast have completed training with GroundsWell and Belfast Healthy Cities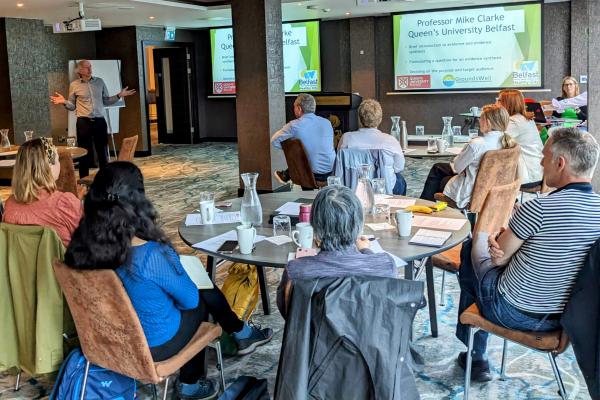 The Greening for Health Training Workshop: Using Evidence in Practice invited participants to consider how to formulate the right questions when searching for evidence, and how to identify, find, and appraise the evidence needed. Prof Ruth Hunter, Prof Mike Clarke, Dr Claire Cleland and Dr Chris Tate facilitated the training.
Prof Mike Clarke, who led the discussions said,"Having access to reliable and robust evidence, and being able to understand the quality and relevance of that evidence will strengthen policy and action across society. This partnership will help to achieve this for greening and health across Belfast and beyond."
Prof Ruth Hunter, GroundsWell co-director and co-chair of the Greening the City Advisory Group said, "We really appreciated the opportunity to be able to deliver this workshop on evidence synthesis to a wide range of partners working in policy, practice, and the community as part of the GroundsWell consortium."
Joan Devlin, Chief Executive of Belfast Healthy Cities, said "the training has been highly engaging, and the enthusiasm of partners to better use evidence linked to greening, health, and inequalities is really important and will help strengthen delivery of greening for health policies and projects in Belfast"
Jacqueline O'Hagan, EastSide Greenways Manager, EastSide Greenways attending the workshop said, "This was a fascinating training session from Belfast Healthy Cities and the GroundsWell Consortium. It is so important to know how to understand and interpret evidence and research relevant to our work to better inform our practices."
The workshop supported delivery of Belfast Healthy Cities Greening the City Programme. Further information is available here.